Find, Rapidly, Otus with Galaxy Solution
The user-friendly and Galaxy-supported pipeline FROGS analyses large sets of DNA amplicons sequences accurately and rapidly, essential for microbe community studies. It produces abundance table of OTUs and their taxonomic affiliation.
FROGS was designed to support multiplexed and demultiplexed sequences.
The preprocessing tool is dedicated to paired sequences merging, cleaning and dereplication.
The clustering tool uses Swarm with a local clustering threshold, not a global clustering threshold like other software do.
Chimera removal tool uses VSEARCH combined with an innovative chimera cross-validation.
A filtering tool allows to remove noisy data.
Affiliation tool returns taxonomic affiliation for each OTU using two methods with a unique multi-affiliation output.
A lot of statistical results and numerous graphical illustrations are also produced.
FROGS is designed for non-specialists thanks to its Galaxy interface, but is also available with command lines github.
Its tools can be used independently, or as a workflow.
It is portable on all Galaxy platforms with few informatics requirements and architecture dependencies.
FROGS was tested on many datasets
the followed tabs show comparisons between FROGS, MOTHUR, UPARSE and QIIME, the popular pipelines.
Standard Operation Procedure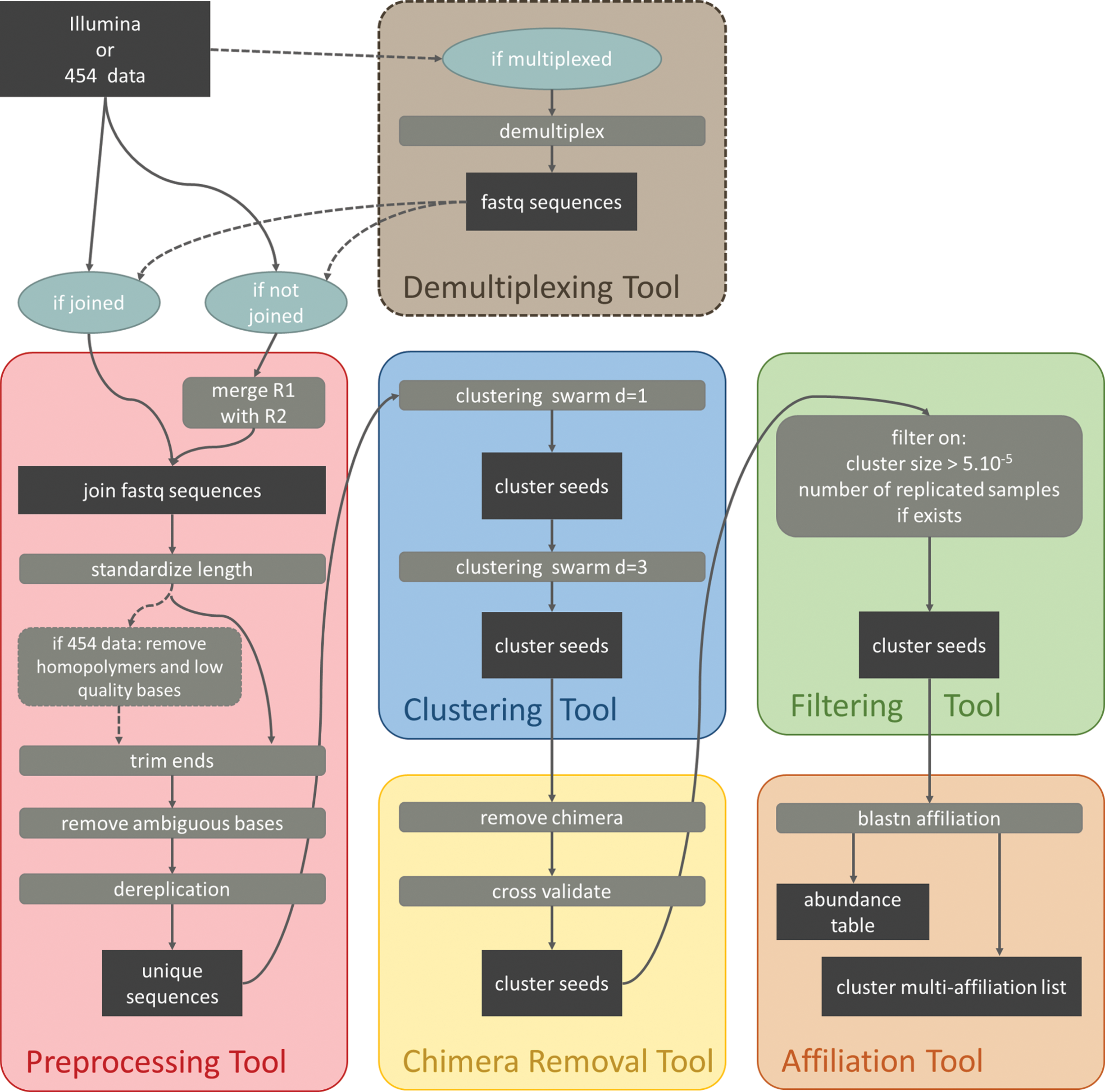 Citation
The publication :
Frédéric Escudié, Lucas Auer, Maria Bernard, Mahendra Mariadassou, Laurent Cauquil, Katia Vidal, Sarah Maman, Guillermina Hernandez-Raquet, Sylvie Combes, Géraldine Pascal;
FROGS:
Find, Rapidly, OTUs with Galaxy Solution,
Bioinformatics
, Volume 34, Issue 8, 15 April 2018, Pages 1287–1294
To test FROGS
Play with FROGS on the Galaxy server of Toulouse
Redo FROGS'assessments with command lines (careful: very long process)
Get data built with utax sequences:
datasets_utax
Get data built with silva sequences:
datasets_silva
Get command lines on tabs SDFU/Commands and/or SDFS/Commands